Introducing Jeff Tatarin, D.D.S.
I am pleased to share the news that after 38 years of being a part of this wonderful community, as of March 15, 2021, I will be retiring and transferring ownership of my Centennial dental practice to Dr. Jeffrey "Jeff" Tatarin. For some time now, I have been searching for the right person to continue your dental care and I know I have found that person in Dr. Tatarin. Dr. Tatarin has the skill, experience and a similar dental philosophy to mine which was very important to me. Dr. Tatarin is committed to ensuring you receive the same quality dentistry you have become a custom to over these many years.
I know you will like him the first time you meet him! But to give you a little background, Dr. Jeff Tatarin graduated with honors from the University of the Pacific School of Dentistry (San Francisco, CA) where he earned his Doctor of Dental Surgery degree. His undergraduate studies are in Business Economics where prior to dental school he enjoyed a career in business. The combination of his experience in dentistry and business is very important to the successful operation of a dental practice. I too have always strived to incorporate both sides of exceptional dental care and customer service through good business practices. Professionally, Dr. Tatarin is a member of the Colorado Dental Association, the American Dental Association, the Metro Denver Dental Society, The Holistic Dental Association, and the International Academy of Oral Medicine and Toxicology. Outside of the office Dr. Tatarin loves the outdoors. He is an avid snowboarder, hiker, and fisherman. He enjoys cooking, traveling to new places, comedies, woodworking, and spending time with his family.
Your support of Dr. Tatarin and referrals to him would be the ultimate compliment to me. Your dental records will remain with the practice and he welcomes the opportunity to meet each of you during your next visit. Kelly, Janae, Kim, Stacy, Marina and Cherie will be staying to assist Dr. Tatarin. You may see me around once in a while as I complete some of the treatment I have already started to help Dr. Tatarin with the transition. However, all care going forward will be provided by Dr. Tatarin. Please do not hesitate to call us if you have any questions. We welcome the opportunity to share more!
Change is both necessary and inevitable, but we believe that this change will be almost unnoticeable. You will still receive the highest quality of dental care and personalized service with a smile and laughter! I assure you, Dr. Tatarin will care about you as I have cared for you.
I have been honored and privileged to be your choice for dental care all of these years. It has given me great satisfaction to work with each and every one of you… for a number of generations! I am so pleased to be able to leave you all in such good hands with Dr. Tatarin.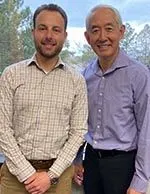 A Note From Dr. Tatarin
My name is Dr. Jeff Tatarin, and I am ecstatic to be able to serve you. I would like to take this opportunity to congratulate Dr. Andow on his well-deserved retirement after 38 years of providing outstanding dental care to his patients. I also acknowledge the disappointment you and your family may feel as a result of this transition.
When I first met Dr. Andow I was immediately impressed with his calm chairside manor, his patient-centered care, and the fastidious quality of dental care he provided. I value his mentorship because we both share the same passion for dentistry. We both love this field, we listen to our patients, and it shows through in our work and patient interactions. I am overwhelmingly honored to have been selected to continue Dr. Andow's legacy and in doing so I am committed to as little change as possible. Our office location, our wonderful staff, treatment modalities, and practice philosophy will remain unchanged. We will remain the same small private dental office you and your family have appreciated over these many years. Your safety has and will always remain at our highest priority now and at all other times. We will continue to respect the link dental care has to a patient's overall health and wellbeing.
A dentist's retirement is bittersweet and Dr. Andow has left me with some pretty big shoes to fill. This is a responsibility I am prepared for and I am looking forward to spending my career providing you and your family with the highest quality of individualized dental care possible. If you would like to meet or speak with me before any planned appointments, please call the office and I will be happy to make that time for you. I sincerely look forward to meeting you.