Wisdom teeth, also referred as third molars, are the third and final set of molars that generally appear in the later teenage years. Wisdom teeth grow in the very back of the upper and lower jaw, in the back four corners of the mouth. Bupa (United Kingdom) created this illustration to show the relationship of the teeth in your mouth and where your wisdom teeth are located. Some people are blessed with the room to accommodate wisdom teeth. For most, the wisdom teeth don't erupt or may only partially erupt. The term "impacted" is used to describe this condition and it can sometimes lead to a whole host of problems in your mouth. For others, wisdom teeth may be crooked when they erupt or be difficult to brush and floss due to their position in your mouth. When these conditions happen, Dr. Andow recommends that they be removed.
For information on how to care for your mouth after removal of your wisdom teeth, click here .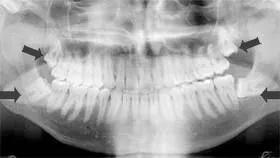 What if wisdom teeth aren't removed?
If misaligned wisdom teeth are not removed, they can cause damage to the rest of the teeth and can cause damage to the jaw and/or nerves. Wisdom teeth, which do not fully erupt, may break partway through the gums, causing a flap of gum tissue to grow over them. This allows bacteria to fester and grow underneath the gumline. This will eventually lead to an infection which causes periodontal disease with additional damage to adjacent teeth. Through x-ray images, we can assess the condition of your wisdom teeth and determine if they need removal.
Dr. Andow has had a great deal of experience removing wisdom teeth due to the residency training he completed. He also offers nitrous oxide , oral conscious sedation and IV sedation for those that may be apprehensive.