Enhance your smile
Why Composite Bonding
Stained or discolored teeth

Unsightly gaps between front teeth

Chipped teeth

Rough or jagged edges on front teethh

Teeth that are too small or large in proportion to your mouth

Crooked teeth

Worn teeth
What is Composite Bonding?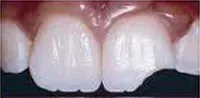 Composite bonding is made from a tooth-colored resin material. Your tooth only needs minimal preparation and is therefore a more conservative treatment compared to crowns. The composite is layered onto the tooth. Each layer is cured with a high intensity blue light and the final surface is shaped and polished. Bonding is virtually invisible.
The Benefits of Composite Bonding
In the hands of Dr. Andow, composite bonding can provide you with a natural, beautiful smile. Bonding can improve your smile just as veneers do. Though not as strong and durable as ceramic veneers, composite bonding has the main advantage of being able to be completed in one appointment.
For information on how to care for your new composite bonding, click here .
Are there other treatment options?
Ceramic veneers are the state-of-the-art alternative to composite bonding as they are more durable and stain resistant. Veneers will last longer and retain their natural appearance longer than composite bonding.