The clear alternative to metal braces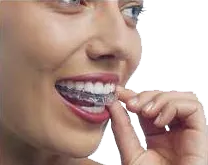 Invisalign® is a breakthrough technology that straightens teeth with a series of clear, virtually invisible, custom-molded aligners. These aligners replace the wires and brackets of the past, making orthodontic care practically unnoticeable. And, unlike braces of the past, these clear aligners can be removed while you eat and brush your teeth.
Unlike traditional braces, few people will even know you're wearing Invisalign®. That's because each aligner is nearly invisible. So you can have the confidence you need while looking great at work, at school, and with friends. It's a new type of orthodontics, helping you look good now to look great in the future!
Invisalign® has been proven effective in both clinical research and in dental practices nationwide and can treat:
Crowded teeth

Gaps in teeth

Shifting of teeth after braces
Best of all, Invisalign® helps improve your overall health, including:
Healthier gums

Easier cleanings

Improved chewing

Reduced risk of abnormal tooth wear

Improved speech

Greater confidence and self-esteem
Call us today to schedule a consultation to see if Invisalign® is right for you.
With Invisalign®, there's nothing to hide!