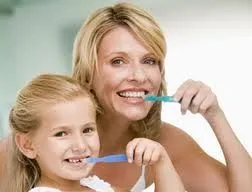 A preventive program is a cooperative effort involving you, Dr. Andow, and his dental team. Preventing disease is always better than treating disease. By actively preventing the onset, progress and recurrence of dental disease, you can maintain a healthy, beautiful smile throughout your lifetime.
Preventing dental disease starts at home with good oral hygiene and a balanced diet. It continues at our office by the efforts of Dr. Andow and his dental hygienists to promote, restore, and maintain your oral health.
Prevention includes regular dental exams, cleanings, and x-rays. Prevention helps avoid serious and costly dental problems and is the key to having a healthy, confident and beautiful smile. Regular prevention is truly your best investment.
Click on a heading below to get to know all our preventive services